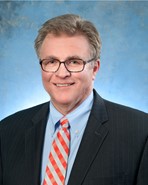 Dr. Douglas Beach
E. Douglas Beach, Ph.D., Chief Executive Officer of WRAAA, has extensive work experience and expertise at the federal, state, and local levels with a proven record of outstanding leadership.
After spending much of his childhood on family farms, it was no surprise that Dr. Beach pursued a Ph.D. in agricultural economics. However, while working in his specialty, Dr. Beach moved back to Ohio to care for his ailing father. It was this experience that led him to become more and more interested in a different national resource: seniors.
Dr. Beach began a career advocating for elders while serving as the Ohio Department of Aging's Deputy Director of Programs. After several years at the Department of Aging, Dr. Beach was asked by Congressman David L. Hobson (R-OH) to come on board as a staff economist. While working for Congressman Hobson, he drafted major legislation promoting insurance coverage of long-term care. Although his background and education were in economics, he had a strong desire to return to the aid of seniors.
In September of 1999, Dr. Beach was named the CEO of the Senior Resource Alliance, one of Florida's busiest area agencies on aging. Under his leadership, the Orlando-based organization's budget rose from $16 to $25 million. Soon after, the Senior Resource Alliance became Florida's first Aging and Disability Resource Center and was honored as one of the nation's top 10 Information and Referral systems.
In February of 2007, Governor Charlie Crist tapped Dr. Beach as Secretary of the Florida Department of Elder Affairs. Even during very rough economic times, the Department's budget increased with the needs of Florida's seniors. Most of the new funds were used to allow more opportunities for seniors to remain in the community as their healthcare needs increased. 
In June of 2010, Dr. Beach became the Executive Director of the Volusia County Council on Aging (COA), one of the premier aging providers in the state. COA provides traditional Older Americans Act (OAA) services, but has also emphasized private pay services and in-home Medicare services.   
Dr. Beach joined WRAAA as the Chief Executive Officer in October 2014. With his blend of skills, business acumen, and respect for the population served by WRAAA, Dr. Beach continues to provide consistent leadership and guidance as we face future opportunities and challenges. 
To speak with Dr. Beach, call 216-621-0303 extension 1284.