What are Health and Human Services?
Health and Human Services programs focus on healthcare access, mental health and addiction treatment, trauma services, and vital programs that serve children, seniors, and the disabled. 
MetroHealth Hospital, Children and Family Services, and the ADAMHS (Alcohol, Drug Addiction and Mental Health Services) Board receive support through Health and Human Services. Programs from these institutions include the MetroHealth Level One Trauma Unit, MetroHealth's Neonatal Intensive Care Unit, counseling for families and individuals impacted by opioid addiction, early childhood and preschool programs, home health care and meals for seniors, and home services and meals for the disabled.
Who uses Health and Human Services?
One out of three Cuyahoga County residents uses Health and Human Services every year. That's 400,000 individuals seeking support for their basic needs. 
You might need Health and Human Services if:
You're a senior who experiences food insecurity, and you use Meals on Wheels and other food support programs. 

You're a senior or have physical disabilities, and you need in-home healthcare support. 

You get in a car accident and need to be life-flighted to MetroHealth for emergency care.

You need help accessing mental healthcare, or substance abuse treatment for drugs, alcohol, or opioids.

Your family has been impacted by the opioid crisis, and a loved one needs substance abuse care or little ones need foster care. 

You or a loved one experience a health emergency and use the MetroHealth Level One Trauma Center.

You're an expectant parent and your baby arrives premature or in distress, and you need help from MetroHealth's Neonatal Intensive Care Unit. 

You're the parent of a young child who is ready to enter preschool or other early education programs, so that they're prepared for entering school. 
Health and Human Services provides care for people in all walks of life, struggling with everyday needs. 
How much does the levy cost?
Cuyahoga County government has been careful in asking its residents to invest in their neighbors. On Tuesday, March 17, Cuyahoga County voters are being asked to consider Issue 33, a replacement Health and Human Services levy of 4.7 mills. If passed, Issue 33 would increase the current millage rate of 3.9 mills by 0.8 mills and would be effective from 2021-2028. Under Issue 33, property owners would pay an additional $41 a year for every $100,000 in property value— a little less than $3.50 per month.
This levy is a small increase, but it will have a HUGE impact. It will maintain our current Health and Human Services at their current level, even as more and more people access them. This levy will also generate millions in investments to find innovative ways to prevent and reduce the need for additional services. And to guarantee these investments produce the benefits we need them to, Cuyahoga County has set up a system of measurement and oversight. 
How will the money be used?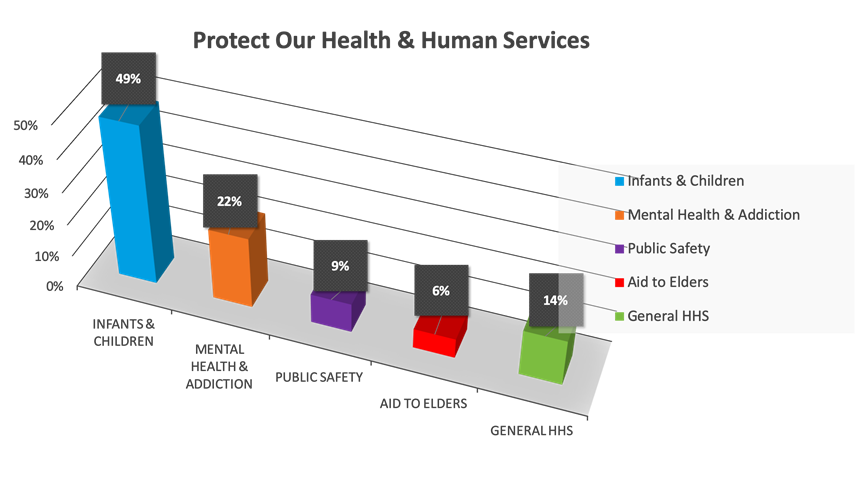 Issue 33 funds critical services for:
Infants & Children $16,975,000
Mental Health & Addiction Services   $7,600,000
Public Safety   $3,425,000
Aid to Elders   $2,000,000
General HHS   $5,000,000
All of these proposed allocations would need the approval of Cuyahoga County Council and the County Executive before they could be implemented.
Passing Issue 33 will ensure current critical services continue AND will fund investment in targeted, interconnected areas that will amplify the impact of our health and human services efforts, help reduce long-term needs and costs, and provide us with measurable, accountable results. Four critical areas for additional HHS investment are:
Critical Investment Areas

Goals

Infants and Children

Saving babies' lives

Protecting at-risk children

Preventing the long-term effects of childhood trauma

Preparing children for school

Senior Residents

Helping people age in place

Increasing food security

Connecting seniors with caregivers

Promoting strength and independence

Mental Health and Addiction

Treating more patients

Building a continuum of care for recovery

Helping people become healthier and find homes

Public Safety

Turning young people away from violence

Diverting people from jail into treatment

Preparing productive opportunities for people re-entering society
Why is this levy needed now?
Issue 33 will support programs already funded by the Health and Human Services levy, most of which are facing an increase in the number of people they serve. 
The need for Health and Human Services has been growing. Deep, long-term poverty, the opioid crisis, and an aging population are making Health and Human Services more necessary.
Cleveland is the second-poorest major city in the country, and our poverty rate is a third higher than it was during the Great Recession.

Opioid-related deaths in our county have occurred at two-and-a-half times the national average.

And there are now more Cuyahoga County residents over the age of 60 than there are under the age of 20.
Cuyahoga County residents are more likely to need support, and more likely to need increased support, than ever before. As these profound needs have grown, the state and federal governments have been withdrawing and limiting their support. That isn't likely to change anytime soon.
This election, invest in Cuyahoga County's people—and help keep us all alive, healthy, and functioning by voting for Issue 33.