Farmers' Market
Coupons for eligible participants.
2021 Senior Farmers' Market Nutrition Program (SFMNP)
The Western Reserve Area Agency on Aging is happy to administer the SFMNP again this year.  The SFMNP is funded by the United States Department of Agriculture (USDA), the Ohio Department of Aging (ODA), and the Western Reserve Area Agency on Aging (WRAAA)
Coupons for 2021
All coupons for 2021 have been distributed. Please note, no applications nor coupons, are available from the WRAAA's office.  
 
Farmers' Market Locations
If you have received 2021 SFMNP coupons and want to know where you can use them click on these Location Brochures: Cuyahoga, Geauga, Lake, Lorain, and Medina.
FARMERS' MARKET EATING WELL RECIPE BOOK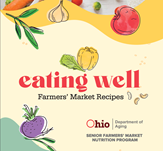 Get easy-to-make summer and fall recipes: https://bit.ly/3BaENt6 with complete nutritional values, from Ohio Department of Aging. The book has a lot of good healthy recipes with fruits and vegetables that can support better nutrition in older adults, and aren't too complicated or have too many ingredients.