About Western Reserve Area Agency on Aging
The Western Reserve Area Agency on Aging (WRAAA) is a private nonprofit corporation. We were organized and designated by the State of Ohio to be the planning, coordinating, and administrative agency for federal and state aging programs in Cuyahoga, Geauga, Lake, Lorain and Medina counties. Building upon four decades of experience in providing services and support to individuals in need, WRAAA continues to expand our service portfolio in the long-term and healthcare delivery systems. We look forward to the opportunity to serve you.
Our Mission Statement
We provide choices for people to live independently in the place they want to call home.
Our Vision Statement
We aim to create a community that provides aging individuals and people with disabilities the opportunity to have their needs met with optimum choice, dignity, and maximum independence.
To learn more about the support we provide contact us, read our Agency newsletter,  or view our Directory of local resources in our Publications section.
Dr. E. Douglas Beach, CEO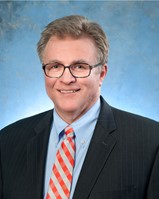 Dr. E. Douglas Beach became Chief Executive Officer of WRAAA in October 2014. With his blend of skills, optimism, business acumen, and respect for the aging and disabled populations served by WRAAA, Dr. Beach continues to provide consistent leadership and guidance in all facets of WRAAA operations. Dr. Beach champions the reach of WRAAA's innovative programs and services using his extensive knowledge, expertise, and work at the federal, state and local levels to directly impact Cuyahoga, Geauga, Medina, Lake & Lorain Counties.